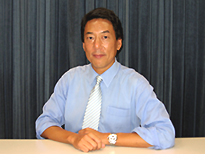 Richard Han is an English and Speech-Communication specialist, and has won numerous awards both in the United States and Japan.
He graduated from the University of Hawaii, with a degree in Speech-Communication. (In American universities, Speech can be majored in as an academic subject. There are Masters and Doctorate Degrees for Speech-Communication.)
In 1978, Richard Han was named Best Speaker at the "National Speech and Drama Festival. "
He worked as a radio broadcaster in Honolulu, before joining Sony Language Laboratory in Japan. He created Sony's English Speech Program, served as Program Supervisor, and was their Chief Speech Instructor.
Richard Han is most famous for his outstanding ability as an instructor.
Since 1980, he has personally taught conversational English, Business English, and his Copyrighted SPEECH-COMMUNICATION COURSE to more than 15,000 men and women in Japan. He has motivated both beginners and experienced speakers, both young and old. A number of native English speakers have also signed up to take his Speech-Communication Classes, aiming to become Effective Speakers.
Mr. Han's students, time and time again, have made extraordinary progress by taking his courses, following his methods.
"Speech-Communication is for everyone!" Richard Han says, ". . . everyone interested in improving their English communication ability."
Over the years, his students have included: company executives, university students, university professors, engineers, businessmen, TV writers, movie actors, high school English teachers, high school students, housewives, secretaries, doctors, and TV newscasters . . . among many others!
Richard Han's Speech Courses are presently used in top companies and universities throughout Japan. He has written Speech Teaching Manuals, and has organized workshops to instruct English teachers how to teach Speech-Communication.
Mr. Han has also organized numerous Speech Contests. He is known as an entertaining emcee, a perceptive judge, and an inspiring lecturer. As a coach, he led his students to win the "All-Japan English Speech Tournament," five years in a row!
Throughout the years, he has also taught TV acting and directing in English. In 1986, he won the "All-Japan Video Contest," sponsored by Nihon Television. In the fall of that same year, he entered the prestigious "Bilingual Speech Contest " for the Kobe Mayor's Cup. He entered ". . . to test myself, if I could still win as a speaker, not only teach speakers how to win."
He won the First Prize.
From 1987 to 1988, he co-starred as a "regular" with actor Kiichi Nakai (also his student), in a 12-part TV Drama locationed in Australia and Japan. The one-hour shows were networked throughout Japan by Fuji Television, and were also televised in the United States.
In 1992, he played the leading role in NHK radio's popular "Business English Conversation " program. And since then, he has taken part in NHK TV's "World Business English," both as an actor and as a speech coach.
Richard Han's mother is Japanese, and he understands the problems and needs that Japanese people face when using English. He says:
"Having been an English conversation teacher myself, I have always felt that there is a limit to a student's progress with the traditional textbook/Q and A method. Up to a certain point this is OK. But real communication abilities cannot be reached only through this method. There is a big difference between 'speaking English words' and 'communicating with people.'
"But this 'gap' can be filled through the study of Speech-Communication. We see a clear difference between people who have studied Speech-Communication and those who have never studied it.
"I believe there should be a place that ideally satisfies this problem."
Combining all his knowledge and experience, he established RICHARD HAN SPEECH ACADEMY in 1988.
He is presently its Chief-Instructor.
. . . and you might be his next student.